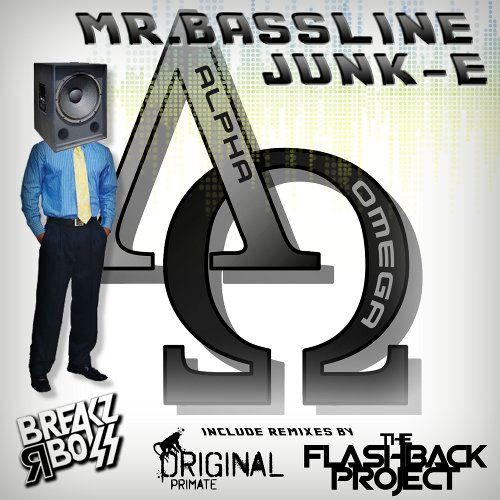 Mr. Bassline Junk-E - Alpha & Omega (BRB-D88) - OUT NOW!
+ remixes by: THE FLASH BACK PROJECT & ORIGINAL PRIMATE!

BUY IT HERE:
http://www.beatport.com/release/alpha-and-omega/1148267
Mr. Bassline Junk-E of Breakz R Boss Records[/b] steps up to the plate for his 4th Ep on the Canadian Imprint..and its a Dinger! Staying true to his roots and unique sounds of Mr.Bassline Junk-E, Alpha & Omega hits hard. With remixes supplied by two of UK's finest 140 jungle breaks producers, sees The Flashback Project and Original Primate on remix duties. Massive 140 Ep from the Breakz R Boss Camp!
Mr. Bassline Junk-E - Alpha & Omega (Original Mix)
Mr. Bassline Junk-E - Alpha & Omega (Original Primate remix)
Mr. Bassline Junk-E - Alpha & Omega (The Flashback Project remix)
Preview on our Soundcloud:
http://soundcloud.com/breakzrbossrecord ... lpha-omega
BREAKZ R BOSS RECORDS
Facebook:
https://www.facebook.com/BreakzRBossRecords
Soundcloud:
http://soundcloud.com/breakzrbossrecords
Beatport:
http://www.beatport.com/label/breakz-r- ... ords/17514
Twitter:
https://twitter.com/#!/BreakZRBossRecs
Youtube:
http://www.youtube.com/user/BreakzRBossRecord
Website:
http://www.breakzrboss.com/