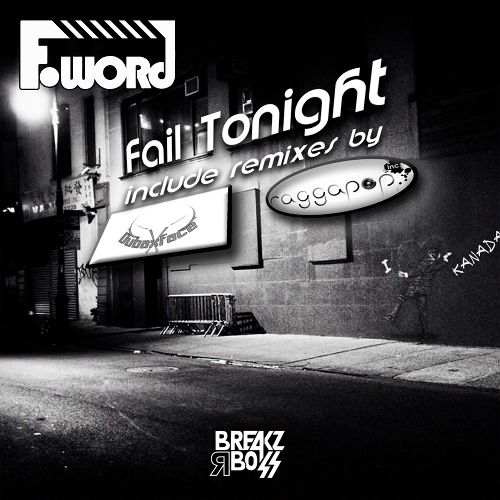 F-Word - Fail Tonight (BRB-D77)
OUT NOW EXCLUSIVE ON BEATPORT
F-Word
brings the Funk and the Breaks with True F-Word fashion on Breakz R Boss Records 77th release. Remixes provided by Dubaxface & Raggapop Inc. Real Breaks, for Real Breaks Fans!
a) F-Word - Fail Tonight (Original Mix)
b) F-Word - Fail Tonight (Dubaxface remix)
c) F-Word - Fail Tonight (Raggapop Inc remix)
Preview on our Soundcloud:
http://soundcloud.com/breakzrbossrecord ... -out-soon/
| F-Word |
Moscow, RussiA
Soundlcoud:
http://soundcloud.com/dafword
Facebook:
https://www.facebook.com/dafword
Back to 90s, when the F-Word project had just begun this story, it was easy to feel the influence of hardcore and jungle sound, and the first beats of electronic music in it. Later, the new wave of breakbeat inspired the project to do some kind of serious experiments. Going back to roots, F-Word gains a great interest in funk, soul, hip-hop and DJ-culture. In 2005 he performs his first DJ-set and gets the inspiration from breaks music. After that, he finally steps into the breaks-music path.
The year 2007 was a very important year for the project and it was full of significant events such as "Red Devil DJ Battle" and release of the first single by F-Word project, which became popular overnight in many web stores. In june 2010 F-Word smased the world with magnificent 70-track-DJ-mix for Ninja Tune's Solid Steel radioshow. 2012 denoted for F-Word as the year of collaboration with other producers and vocalists.
BREAKZ R BOSS RECORDS
Facebook:
https://www.facebook.com/BreakzRBossRecords
Soundcloud:
http://soundcloud.com/breakzrbossrecords
Beatport:
http://www.beatport.com/label/breakz-r- ... ords/17514
Twitter:
https://twitter.com/#!/BreakZRBossRecs
Youtube:
http://www.youtube.com/user/BreakzRBossRecord
Website:
http://www.breakzrboss.com/