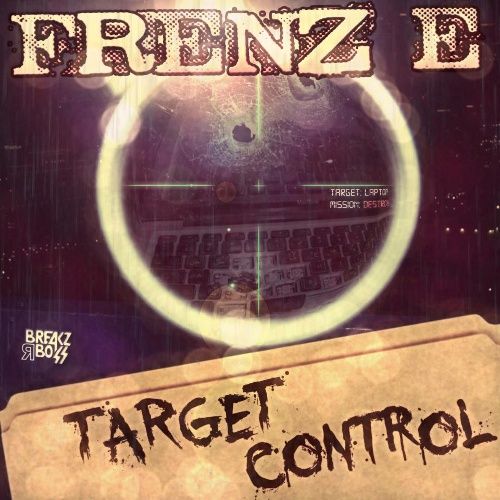 Frenz E - Target Control (BRB-D72)
OUT NOW EXCLUSIVE ON BEATPORT
Frenz E's 1st Ep on Breakz R Boss and he brings The Bass & The wobble & The Ruckus. Nu Skool breaks all the way thru on this one. Chaos Theory and Beat Muffin Style tear up the remixes from head 2 toe. Watch your Bassbins im tellin yah!
BUY HER NOW:
http://www.beatport.com/release/target-control/1056088
Frenz E - Target Control (Original mix)
Frenz E - Target Control (Chaos Theory Remix)
Frenz E - Target Control (Beat Muffin Style Remix)
Preview and Leave feedback on our SC page:
http://soundcloud.com/breakzrbossrecords/sets/frenz-e-target-control-brb
| FRENZ E |
Dallas, United States
Soundcloud:
http://soundcloud.com/frenzegfp
Facebook:
https://www.facebook.com/FrenzE1?fref=ts
Discovering his love for music at the age of nine from picking up a guitar, Francis Del Castillo AKA Frenz E, knew music would burn in his heart for the rest of his life. Heavily influenced by Nirvana, NOFX, The Prodigy & Daft Punk in his youth, he finally formed a punk band which lasted several years. After going to a rave for his first time and experiencing a new culture and a new profound love for EDM, he sold his guitar and bought a pair of turntables the following week. Several years later he had pretty much DJed in every club in Dallas and and several other cities in Texas, including his biggest show yet at The 10th Annual Meltdown Festival Massive (2010). Having his DJ mix played on Edgeclub102.1 FM along with some original productions, Frenz E has played at events with artist such as Will Bailey, Afrojack, Datsik, Excision, Ferry Corsten, Paul Anthony & ZXX, Sharam, Hot Pink Delorean, Skrillex, Designer Drugs, Riva Starr, DJ Bam Bam, Harvard Bass, Simply Jeff, Frankie Bones, Hatiras, Mc Flipside, Congorock, A.S.Y.S to name a few. In 2009 he started to get into music production and has now released tracks onto Breakz R Boss, Melonsound, Frontzide Records, THaF Records, Ravesta Records, YEAH MAN RECORDS!, Bone Idle Records, Starblocks Music, Banging Grooves Records & more. His sounds primarily consist of heavy gritty basslines, melodic catchy synths, heavy floor filling drums, glitched vocals, giving him a unique and enjoyable big room high energy sound. Now more focused than ever make sure to keep an eye out for this upcoming producer in 2013.
The Remixers:
Chaos Theory:
http://soundcloud.com/chaos-theory-1
Beat Muffin Style:
http://soundcloud.com/beatmuffinstyle